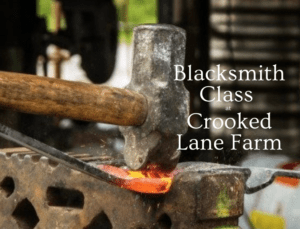 Blacksmith Class for Beginners 2 & 3
August 15, 2020
9:00-3:00
Join blacksmith Ralf Mehnert-Meland at Crooked Lane Farm for a day of blacksmithing on Aug. 15.  This class offers a hands-on introductory experience about blacksmithing techniques, safety, fire control, tools, and equipment.
Student with no experience as well as those who have had classes are welcomed.
Students will use a traditional coal forge to create a number of basic projects that will give each the chance to learn hammer skills.  Class fee covers the cost of materials, including coal and steel.  Students are asked to supply the following:
·         Safety glasses
·         Ear protection
·         Leather gloves
·         Clothing comfortable to be outdoors (cotton and wool only)
·         shoes: leather if you have them
·         Optional: your favorite hammer (no claw-type hammers)
 If you are in need of safety glasses, ear protection, and gloves let us know and we can help you out.
Class date and time: Saturday, August 15 from 9 am to 3 pm.
Class size is limited to 6 students, ages 15 and older.
Cost: $50.00