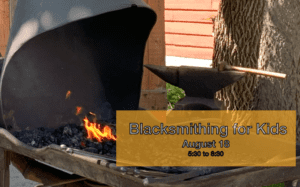 Blacksmithing For Kids
This is a class for just for kids, ages, 12-18. Join blacksmith Ralf Mehnert-Meland at Crooked Lane Farm on August 18, 5:30 to 8:30.
.  This 3 hour class offers a hands-on introductory experience about blacksmithing techniques, safety, fire control, tools, and equipment.  Students will use a traditional coal forge to create a basic project that will give each the chance to learn hammer skills.  Class fee of $25 covers the cost of materials, including coal and steel.  Written parent permission required for all students.
Parents are invited to attend to serve as a guide on the side.